JAW-DROPPING PERFORMANCE
Powered by ArmourBite™ Mouthwear Technology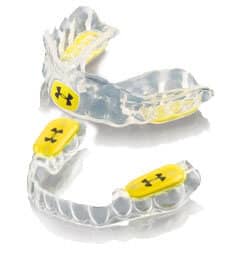 Increases Strength
With improved airflow and less stress from clenching, UA Performance Mouthwear has been proven to increase strength by an average of 17% with the UA Performance Mouthpiece and 12% with the UA Performance Mouthguard.
Increases Endurance
UA Performance Mouthwear,enlarges airway openings, resulting in 25% less lactic acid build-up after 30 minutes of intense exercise.
Speeds Up Reaction Time
Athletes may respond faster When wearing UA Performance Mouthwear. Clinical trials show an improvement in responding to auditory cues and potential improvement in response to visual cues.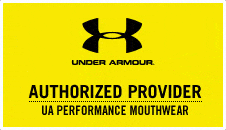 Reduces Athletic Stress
Excess cortisol causes stress, fatigue and distraction. UA Performance Mouthwear decreases cortisol production, which means you feel & play better.
Reduces Impact
When the jaw suffers an impact, energy can be transmitted to the head, which can cause concussion. UA Performance Mouthguards have been shown to reduce the G-Force impact of blows to the jaw by up to 20%.
Protection and Performance
| FUll CONTACT | LIMITED CONTACT | NON CONTACT |
| --- | --- | --- |
| Football | Basketball | Golf |
| Ice Hockey | Soccer | Running |
| Lacrosse | Baseball | Swimming |
| Boxing | Cycling | Weight Lifting |
| Martial Arts | Gymnastics | Yoga |
| Wrestling | Inline Skating | Pilates |
| | Skiing | |
| | Tennis | |
| | Snowboarding | |
| | Volleyball | |
| | Softball | |
FREQUENTLY ASKED QUESTIONS
HOW DOES UA PERFORMANCE MOUTHWEAR DIFFER FROM MOUTHGUARDS?
Mouthguards provide protection. UA Performance Mouthwear, which includes mouthpieces and mouthguards powered by ArmourBite™ Technology,does more: It enhances performance. It is not only backed by some of the biggest names in pro sports, it's also recommended by dentists, pro trainers, strength coaches and well ness experts.
WHO SHOULD USE UA PERFORMANCE MOUTHWEAR?
Hundreds of professional athletes are currently relying on the superior performance and protection benefits of UA Performance Mouthwear. But it isn't just for pros-UA Performance Mouthwear is for all athletes who want to excel in their sport or activity.
HOW DO I CHOOSE THE RIGHT PRODUCT?
The UA Performance Mouthguard offers superior protection in addition to its performance benefits and should be used in contact sports such as football, hockey and lacrosse. The UA Performance Mouthpieces appropriate for non-contact and limited-contact sports such as running, soccer, baseball, golf, tennis and training.
HOW LONG DOES IT TAKE TO GET ACUSTOM PIECE OF UA PERFORMANCE MOUTHWEAR?
Once fitted, the orders typically take 10 days for delivery. Talk to your dentist about shipping options to receive your product sooner.
Call for more information on UA Performance Mouthwear.