Revolutionary 3D CBCT
Industry Leading High Quality, Highly Diagnostic Images allow us to better diagnose hidden and complex patient problems.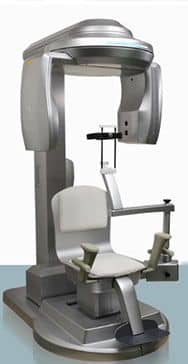 Dental 3D Cone Beam Scanner
PreXion3D offers the highest image quality and most powerful software in the cone beam CT industry for precise implant planning, oral surgery, endodontics, periodontics, restorative, general dentistry and much more.
At First State Dental, once the patient and doctor agree that a 3D scan is necessary, it only takes minutes to complete the scan and determine if the patient is a candidate for dental implants, has tooth or bone pathology, or has a wisdom tooth that may injure a nerve upon extraction.  Even children benefit from this in-office technology; sometimes an extra tooth, called a supernumerary tooth, may prevent the eruption of the permanent tooth.  Finding the exact location in three dimensions of the extra, unwanted tooth is critical to aid its removal.  Exact location of the tooth means that the trauma of the removal procedure is reduced for the patient.
A scan can be completed in 20-30 seconds, so patients do not feel claustrophobic or tired.  The data is then processed by specialized software so that the images can be seen and manipulated in three dimensions by the doctor.  The results can be printed out or burned onto a CD so that patients may retain their results for their records or seek consultations with other dental and medical specialists.