An implant-retained denture is a denture held in place by dental implants. These dentures may be removable by the patient or be of a fixed design and thereby is removable only by the dentist.

Prior to the introduction of dental implants, a patient who had lost all of their teeth was limited to wearing complete dentures and the stability and retention of those dentures was unpredictable at best and impossible at worst.
With the use of as few as two implants, we are able to construct a removable denture which snaps into place and provides excellent retention and stability. With more implants, it is possible to fabricate a fixed denture or a fixed dental bridge, which is just like having one's own teeth.
Fixed or Removable Implant Retained Dentures
Patients have more choices with fixed and removable implant retained dentures .

Fixed implant retained dentures require more implants than a removable implant retained denture because the denture is permanently affixed to the implants and requires greater stabilization. Implant retained dentures feel more natural than removable dentures and chewing efficiency is completely restored.
Removable implant retained dentures require fewer implants; Four dental implants securely hold an upper denture allowing the size of the plate to be reduced or eliminated from the denture altogether. Denture plate reduction or elimination feels more natural and allows for better food tasting. Just two implants under a lower denture can improve stability and restore chewing efficiency up to 90%. While, four implants provide up to 100% normal chewing efficiency. Removable dentures also allow for easier maintenance and cleaning.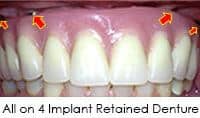 All-on-4® (Nobel Biocare), Teeth in a Day, Teeth in an Hour are same-day denture procedures for implant retained dentures that treat the entire upper and/or lower set of teeth. The procedure is best for patients with significant tooth loss or decay and for people whose jawbone loss prevents the use of traditional dental implants.
Four dental implants support a temporary fixed denture. The denture is placed on the day of surgery, immediately after the implants.
All-on-Six denture procedure used more implants than the standard All-on-Four. The exact number of dental implants required can vary from patient-to-patient based on individual dental health and the supporting jawbone structure.
Dental Implant All on Four, Teeth in a Day Procedure Time Frame
Time to complete - two dental visits usually required to place the dental implants and the temporary denture. Fabrication of the permanent denture may take three to six weeks and additional healing time may be required, taking several weeks for the procedure to be completed.
1st procedure visit - X-ray and/or CT Scan. We will review and plan the exact placement location for the dental implants.
2nd visit - We will perform the dental implants placement and provide a temporary denture - Teeth-in-a-day.
3rd visit - is a healing / progress visit. We will take impressions for the custom implant abutments and the permanent denture(s) that will be fabricated by our dental lab.
4th visit - the permanent denture is placed on the implants and required adjustments are made.
Dental Implant Retained Dentures provide superior function
Compared to conventional removable dentures, implant-retained dentures are far superior. A person's chewing ability with complete conventional dentures is only about 15% of a person with natural teeth. Implant-retained dentures allow a person to function up to 100% as well as with complete natural teeth.
The procedure involves an initial consultation to determine the best course of treatment. Once decided upon, extensive dental images are taken and the chosen number of implants are placed. Once implants are healed and solidly in place, the fixed or removable dentures are fabricated and placed. Follow-up visits are necessary to clean the implants just like one would clean natural teeth and to ensure that the dentures are performing as planned. Once made, these dentures will provide years of excellent service.
Call First State Dental today to learn more about implant retained dentures.