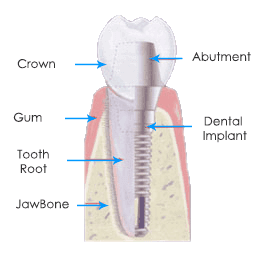 A dental implant is a metal post that replaces a missing tooth root. It is one of dentistry's newest and best advancements in helping to restore normal dental function. Implants allow for the replacement of one or more missing teeth. They are used as anchors to affix a single dental crown, as abutments for partial dentures or bridgework, and are used to retain removable dentures.
When describing a dental implant, the best comparison is to that of a natural tooth root. The tooth root is the non visible part of the tooth that is under the gumline and embedded in the jawbone. The visible tooth, above the gumline, is called the crown of the tooth. The dental implant is a replacement for the tooth root only.
When placed in your jaw, an implant becomes firmly attached to the bone. The cells in our bone have a strong affinity for the titanium in the implant, and during integration, the implant fuses to the bone. Once this process is complete (typically in 6 weeks to 6 months). We can then attach a crown, bridge, or denture to the implant for a permanent solution.
Dental implants provide the best replacement for missing teeth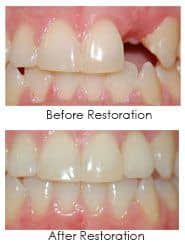 When both the tooth and root are damaged beyond repair, the best permanent replacement is a single-tooth implant: a single unit combining a dental implant with a ceramic crown. Usually, the implant will also get a post or abutment screwed onto it to support the ceramic crown.
This solution both looks and functions just like a natural tooth. Often, depending on the patient's mouth, an immediately functioning temporary tooth can be placed. This helps to create an excellent aesthetic result, with shorter treatment time and minimized pain.
If you are missing a tooth or teeth, or are faced with losing a tooth or teeth, dental implants may be the most natural tooth replacement available. Implants are rapidly becoming the restoration of choice for replacing missing teeth.
Dental implants can be the best solution for the person wearing complete dentures. As few as two implants may be placed and either a new denture fabricated or the existing denture retrofitted to attach to the implants. This allows a greater degree of stability and retention than ever possible with traditional complete dentures. Implant retained dentures (aka. implanted dentures) provide denture wearers with a superior non slip denture placement.
Dental implant alternatives
Alternative choices to implant dentistry include: cemented (fixed) bridges, removable partial dentures, a combination of fixed and removable, or complete dentures.
Dental implant procedure time
Depending on your situation, implant dentistry can be accomplished in 3 to 4 visits over the course of 6 to 8 months. More complicated cases may take longer. Under the proper circumstances, a tooth can be placed on an implant the same day the implant is placed. Dental implants look and feel so natural, you may forget you ever lost a tooth.
Dental implant risks
Once an implant is placed, the biggest risk to its success is perio-implant infection, very much like periodontal disease. Continued care with our hygiene department is crucial to long-term success.
Call First State Dental today to learn more about dental implants.