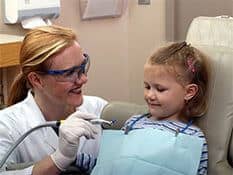 Pediatric dentistry is appropriate from infancy through adolescence. Pediatric dentistry is primarily preventative dentistry and is considered the first level of defense against dental abnormalities.
Wilmington dentists Drs. Mike Gioffre and Georgette Binnersley have expertise in pediatric dentistry including treating some of the most difficult cases worldwide. Their dental cases include cleft palate and full mouth restoration on children and adults. Both doctors are life time volunteers and travel to remote locations to bring pediatric dental care to children in need.
At First State Dental we place special emphasis on preventive dental education for young and teenage patients. Our services are focused on age appropriate dental needs. Your child's initial dental experience should be a positive experience that establishes a good foundation for life-long dental health.
Tooth Eruption-Baby's First Teeth
A baby's first tooth is a milestone for parents. The buds for all of your baby's teeth are formed before birth, and usually begin to erupt by 7-8 months, although it can happen earlier. The rate and order of tooth eruption differs from one child to the next. Normally the lower middle incisors are the first to emerge, followed by the upper middle incisors. By the time a child is three, he or she will have most of their 20 baby teeth. The permanent teeth begin to erupt at around age 6, beginning with the molars and incisors. Teeth continue to erupt from this time until about age 21, when the third molars(wisdom teeth) have emerged. This gives adults a total of 32 teeth.
We provide age appropriate Children's Dentistry including:
Emergency treatment
Diagnosis and treatment of oral health problems
Sealants – protective coatings that help prevent tooth decay
Instruction & encouragement for proper brushing and flossing
Prevention and education about dental decay and gum disease
Creating beautiful smiles
Sports guards – to protect teeth against injury and loss!
The American Academy of Pediatric Dentistry recommends that children see a dentist by their first birthday.
The American Dental Association (ADA) recommends visiting your family dentist at least twice a year for a dental checkup. Routine dental checkups and cleanings eliminate plaque buildup and prevent tooth decay. When necessary, we provide fluoride treatments to help coat the teeth to prevent tooth decay. Routine checkups help in the detection of oral health problems before the onset of symptoms.
Establishing good oral hygiene and healthy eating habits are critical in the early years. With routine childrens' dental care, a commitment to good habits, dedication to good hygiene and a sensible diet, your child should reach adulthood without ever experiencing dental decay. America's diets of processed foods and sweets caused cavity rates to soar! The Surgeon General and the Center for Disease Control have announced an epidemic of dental decay not seen since before fluoridation.